This is how you furnish and design your patio or balcony
How do I create a cosy and homely environment on your patio or balcony? How do I use plants and furnish in the best way? Which material should I use? And how do I integrate glass railings and stainless steel railings in the best way?
In the second blogpost of three – in collaboration with the garden engineer John Block, we discuss how to best furnish and design your patio or balcony for the summer season.
Plan your patio
The peak of summer is to spend time on the balcony or in the garden with your family and friends. Maybe you have just moved into a new house or want to make new surfaces in your garden? Before you start planning your patio there are a few things you should think about.
Look at how you usually use the place – where do you drag your chair for the most sunlight? Or is it important to get shade to the place? Should it be a split place both for hanging out and to use for sunbathing? Or should it only be a place for a dining table? This plays a part in how you place your furniture and which type of furniture you use. For social get-togethers you can choose to build a placebuilt sofa and combine it with chairs and armchairs that offers some flexibility to the furnishing.
John names an element that plays a big role in how your patio appears. If you choose to place a terrace, it is important to think about how you place the planks.
" Depending on how you place the planks, the place will appear differently. If the planks are placed vertically will the room become "smaller". If you place them along the viewpoint the room appears very long, which can be beneficial if you have a nice view for example."
Here the customer chose a stainless glass railing with a hand railing to not hide the amazing view. In combination with this, have the customer put the planks in viewpoint, which makes the terrace feel airy and big.
Consistency in garden planning
A common mistake John sees in garden planning is that people "dabs". An example of this is an overuse of pots.
" Often you can see about 50 pots standing over the whole terrace for different purposes and with different content. This can easily give a messy impression. Instead, use fewer, bigger pots and put more plants in the same pot or why not a tree or a bush? And why not an uneven amount of pots for a more harmonic impression. "
Overall, maybe you have all the parts you need in a garden, but sometimes it can feel messy and incoherent. The problem here is that you miss the red thread. You should therefore bring together the parts. This you can do through a specific glass railing, a trellis construction, a plant or a constant colour. It creates familiarity and you become calmer because of it.
Here, the customer chose to keep the same colour palette on chosen parts of the house. Aluminium railing with coloured laminated glass in black RAL.
John advises about meeting a specific element already in the entrance, maybe a trellis, glass railing or a specific colour to make a mark immediately. Afterwards you meet the same material or colour in the front garden near an outdoor shower or an outdoor kitchen. In that way you create a red thread through the garden.
Small changes that creates a homely place
We have gone through how you in the best way create a patio for larger gardens. But which challenges and possibilities are there for small outdoor spaces like balconies and courtyards?
Small gardens also require their thought process as regards design and room division. And just because the room is smaller does not mean that it is easier to portray. Often it is the opposite. But with small means you can create a place that feels cosy and secure. A courtyard is often surrounded by tall buildings with a lot of windows that face the courtyard. Here you can easily feel exposed. Then it can be effective to use elevated planting beds, trees, pergolas and trellises. Tall windbreakers with opal glass or with coloured laminated glass can prevent others looking in.
Balconies is however a chapter on its own. This is still your private area and is in direct extension to your home environment. Here you maybe want to erase the barrier between inside and outside and use the balcony as an extra room. Depending on where your balcony is it can influence the furnishing. Is it an apartment complex or is it your house out against the garden?
In an apartment complex you maybe want to make sure others can not look inside, then you can put up trellis on the sides of the balcony, to maximise the space with seatings and create a cosy atmosphere with pots and plants. Balconies are also a place exposed to more weather. Sunlight and strong winds can become an issue. It requires plants that are resilient to those conditions.
For balconies and houses that are privately owned you have a bigger opportunity to make changes . Maybe you have an old tree railing that needs an update, with glass and clamps you can keep the old wooden poles but give a lift to the balcony. Or you want to update the whole balcony railing, and then a glass railing is the perfect alternative that lets in a lot of light and does not make the balcony feel cramped.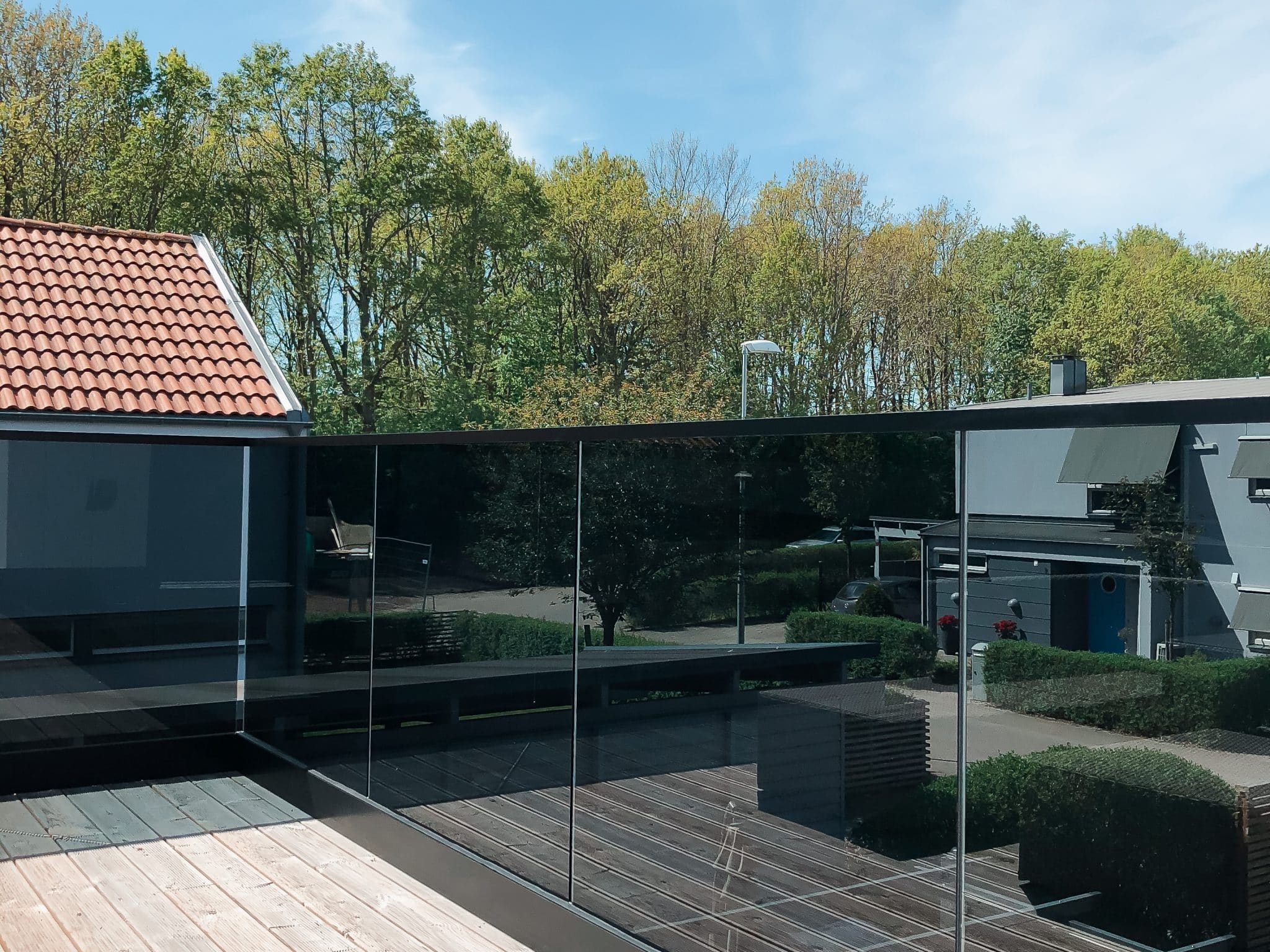 With the glass only railing you let the balcony feel airy and give an exclusive.
On balconies, roof terraces and courtyards you still have big opportunities to create your green environment in an otherwise boring and urban environment. You can always create better conditions for the plants with bigger planters and pots, and have the courage to use other plants than flowers.
This is how you maximise your outdoor area
We ask John how you in the best way maximise your outdoor area through functional elements like seating, lighting and vegetation.
First you need to think about your own needs. Which needs do you have? Do you have a big family? Friend group? Need a home for contemplation and recovery or more social areas for dinners and so on? And how does the place look?
According to John, the first step that he does as a designer is to look at the place. Make a simple analysis of the place to evaluate the nature, but also take the age of the house and surrounding area into consideration. Are there other elements to take into account, such as disturbing sounds, wind or dampness? And then try to solve those issues in new and exciting ways that maybe are not the most obvious.
When you have made an analysis you can go to the usage of the ground. In which direction is the sun and evening sun, is it possible to establish seating there? And why not place chilling areas further out?
"It is not often you get to sit and look at your house from far away! I definitely think that there should be some seating further away from the house to increase the usage of the ground. And is there a way to bind together the different spaces on the ground in some way? Things like vegetation, planters or hedges, trellis and railings could be helpful as room dividers."
During warm summer evenings we want to be able to continue experiencing our outdoor areas even though it gets darker. Then you can of course use different kinds of outdoor lighting to create a striking experience of the place. Often it becomes a whole different garden when you add lighting, you get one garden during the day and another during the evening/night.
Though, it is important not to overuse the lighting, it should be planned with consideration so the garden does not become like Las Vegas (if that is not your style of course). It should also not disturb animal life in the garden, since many animals and insects are active during the night. After all, we share all the space with other small guests.
Which railing material should I use for my garden?
Before you choose which type of railing you want to order, you should check which type of material is used for the appearance of your house. Even which feeling you want to achieve plays a role. Do you want a cosy, cool, calming, uplifting, romantic, modern or maybe classy?
Glass railings are incredibly effective since they can be flexible in how they are interpreted and can also, in a stylish way, frame in a place. Frameless glass railings that attach in a wall or terrace can work in many different places with different impressions or style since they are not always eye-catching. Or if you want a clearer structure since it fits with the rest of the design and then choose a glass railing with clear edges and clamps.
The advantage with the Balustardestore is that you can adapt the railing after the house or place where you want it and not the opposite. With infinite choices on both colour, form and material, and even adaptations after your measurements which further creates a red thread though your garden design. Match the railings colour with the same colour that you already have on your windows and doors.
John also mentions that he has a few customers that have used different kinds of railings on different places in their gardens.
"Let us say that throughout there is a white wooden railing that is recurring in the garden. But between those spaces inside the garden we maybe want something else to create something to protect people from falling, but for that to be seen as little as possible maybe we would choose a slender wrought iron railing or glass railing for it to be as much see through as possible."
Aluminium railing in black RAL-colour
Do you need help in planning your patio and garden?
Contact John Block
www.gardenbyblock.com
Instagram: @gardenbyblock
In the next part our blog series, we discuss how you can utilize glass railings in a creative way in your garden! Stay tuned!
Read part 1 of the series: Design trends for the patio and garden – 2023